Glock 19X is the first "crossover" Glock combining the features of the full-size G17 frame with the compact G19 slide into one perfect package!
Two 17+2-round extended magazines
Standard 17-round magazine
Glock G19X Gen5 NS 9MM Compact 17-Round Pistol
Pistol case
GLOCK 19X – 9MM
GLOCK, Inc. introduces their first ever "Crossover" pistol, the GLOCK 19X, which combines the best features of two of its most popular and most trusted field-tested platforms.
The full-size frame and the compact slide have joined forces to produce the ideal pistol for all conditions and all situations. "The G19X was developed for the military and is a practical everyday pistol that will do what you need it to do, when you need it to; every time, in
every condition,"
Buy Glock 19X in California 
"The pistol was developed for the military using GLOCK's combat proven experience with consideration to efficiency, dependability and durability. Through rigorous testing, the G19X stands out above the competition and has the ability to function in all situations with ultimate reliability and accuracy.
Buy Glock 19X 
Our goal was to meet the demanding needs of the military while maintaining our standard of perfection. With proven results, the G19X delivers maximum efficiency and trustworthiness." Confidence now comes in the coyote color with the first-ever factory colored slide.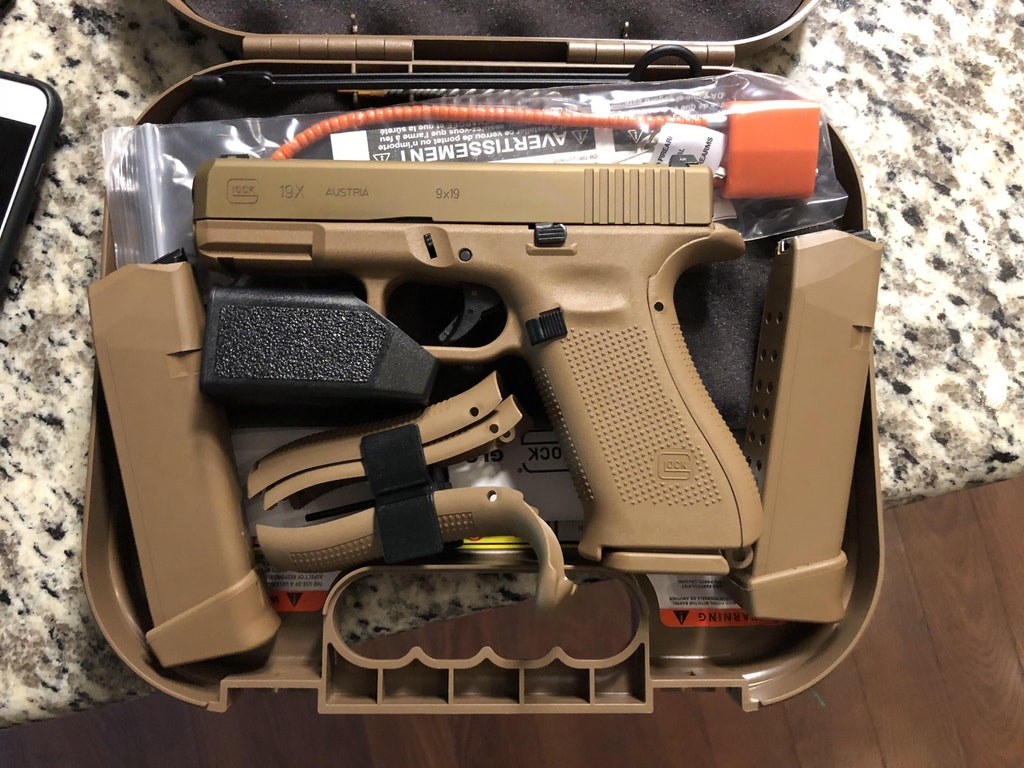 The nPVD slide coating of the GLOCK 19X prevents corrosion, resists chemicals, and stands up against the elements. Additional design features of the G19X include the GLOCK Marksman Barrel (GMB)
with enhanced polygonal rifling and an improved barrel crown for increased accuracy, ambidextrous slide stop levers and no finger grooves for better versatility, and a lanyard loop for retention.
Buy Glock 19X 
The pistol includes a standard 17-round magazine and two 17+2-round extended magazines along with a coyote-colored pistol case. The aggregate effect of all the G19X design enhancements gives any user the assurance to succeed and survive in all situations. A perfect "Crossover to Confidence"
.
Rough grip texturing on the Gen5's polymer frame provides a sure hold on the pistol when hands are wet or sweaty, and the enlarged magazine catch is reversible, accommodating left- or right-handed shooters. An integral accessory rail in front of the trigger guard allows for the attachment of a plethora of aftermarket tactical flashlights or laser sights.                                    Buy Glock 19X 
The dovetailed rear sight is drift adjustable and has a white outline around its notch; the fixed front blade has a white dot. Sight acquisition is quick in any light.
The GLOCK 19X Gen5 Semi-Auto Pistol is an ultra-reliable handgun that is easy to learn how to operate and maintain, making it an ideal choice for self-defense, whether it be for concealed carry or at home. The model 19X Gen5 comes with three magazines.
Buy Glock G19X online
The Glock G19X is a 9 x 19 mm semi-automatic pistol. The X in Glock G19X stands for crossover. That's because clock has combined aspects of two of its most popular modes, the compact Glock 19 and the full-sized Glock 17.
To realize the Glock G19X, it's taken the Glock 19's slide and mated it to the Glock 17's large frame creating a very balanced multi-mission pistol. In standard guise, it is a 17+2 gun, but optional magazines hold 19, 24, 31 or even 33 rounds!
Buy Glock 19X 
Both slide and frame are factory colored in what Glock calls coyote color. The slide has an nPVD (physical vapor deposition) wear-resistant coating and is gently beveled at top, front and back. Only the back has serrations, and they are vertical rather than the more common diagonal types. The gun comes with Glock Night Sights (GNS).
The Glock Marksman Barrel (GMB) has a barrel crown and polygonal rifling. It's 4.02" long. The slide measures 6.85" front to back permitting line of slight to reach 5.98" with standard sights and a tad less with the night sights. Overall length including the pistol
grip is 7.44". Height with magazine is 5.47". The slide has a 1" in width, but the gun's maximum width is 1.30" in order to handle the double-stack magazine(s).
The G19X's unloaded magazine weight is only 22 ounces, but 24.83 ounces with an empty magazine and 31.39 ounces, or a hair below two pounds, with a loaded 17-round magazine in the magwell.
The frame is fairly standard fare with an integrated one slot Picatinny rail below the muzzle, a short beavertail in back and a forward angled straight trigger guard with a deep undercut that surrounds the Glock Safe Action trigger whose pull is 5.85 pounds.
The Safe Action trigger is noteworthy because pulling on the trigger unlocks the trigger safety, the firing pin safety and the drop safety.
The pistol grip is straight, deliberately lacking any finger grooves, but has a short toe in front and a gentle palm swell in back. Otherwise, it features integrated studding all around with a lanyard loop at the bottom.
The G19X has ambidextrous minimalist slide stop levers, thumb safeties and squared magazine releases instead of the circular ones common to many other guns.
While Glock, Inc. is based in Smyrna, Georgia, the Glock 19X is Made in Austria.
Glock G19X for sale?
Features and Benefits
Polymer frame with a nitron finish
Polygonal-rifled barrel and a Coyote nPVD slide
Double action with a 17+2 capacity
GLOCK Marksman Barrel (GMB)
Lanyard loop for retention
No manual safety
Ambidextrous slide stop levers
Specifications
Handedness: Right
Metal finish: Nitron
Action: Double
Product weight: 24.83 ounces
Manual Safety: No
Style: Pistol
Magazine capacity: 17+1
Caliber: 9mm Luger
Rifle Ammo Type: Centerfire
Important Product and Safety Information
You must be a resident of the state selected for pickup.
We recommend the use of protective eyewear whenever using or near the use of this item. jungle boys seeds
Firearms purchased online are shipped to your local Academy Sports + Outdoors as selected in the checkout process.
Please note that all firearm purchases require valid US government issued ID and related firearm paperwork.