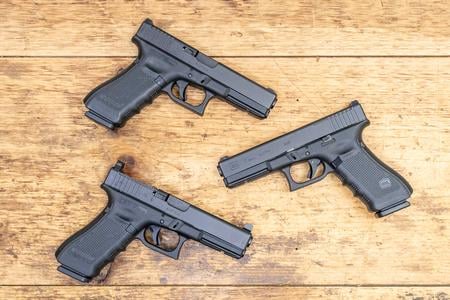 2019 GLOCK 17 GEN 5
The G17 Gen5 features a no finger grooved, multiple backstrapped, rough textured frame with hundreds of miniature spikes which results in remarkable traction for extreme environments and gloved operators. The frame also features a smooth trigger, reversible mag release, and ambidextrous slide stop. The magazine comes with a floor plate which is extended at the front for faster magazine change, and a orange follower, while the flared mag-well makes it easier to funnel the magazine into the mag-well. Glock's nDLC finish provides a tougher, more durable protection against corrosion and scratching. The Glock Marksman barrel features a barrel rifling which delivers improved accuracy. his Glock Gen 5 model has fixed front and rear sights.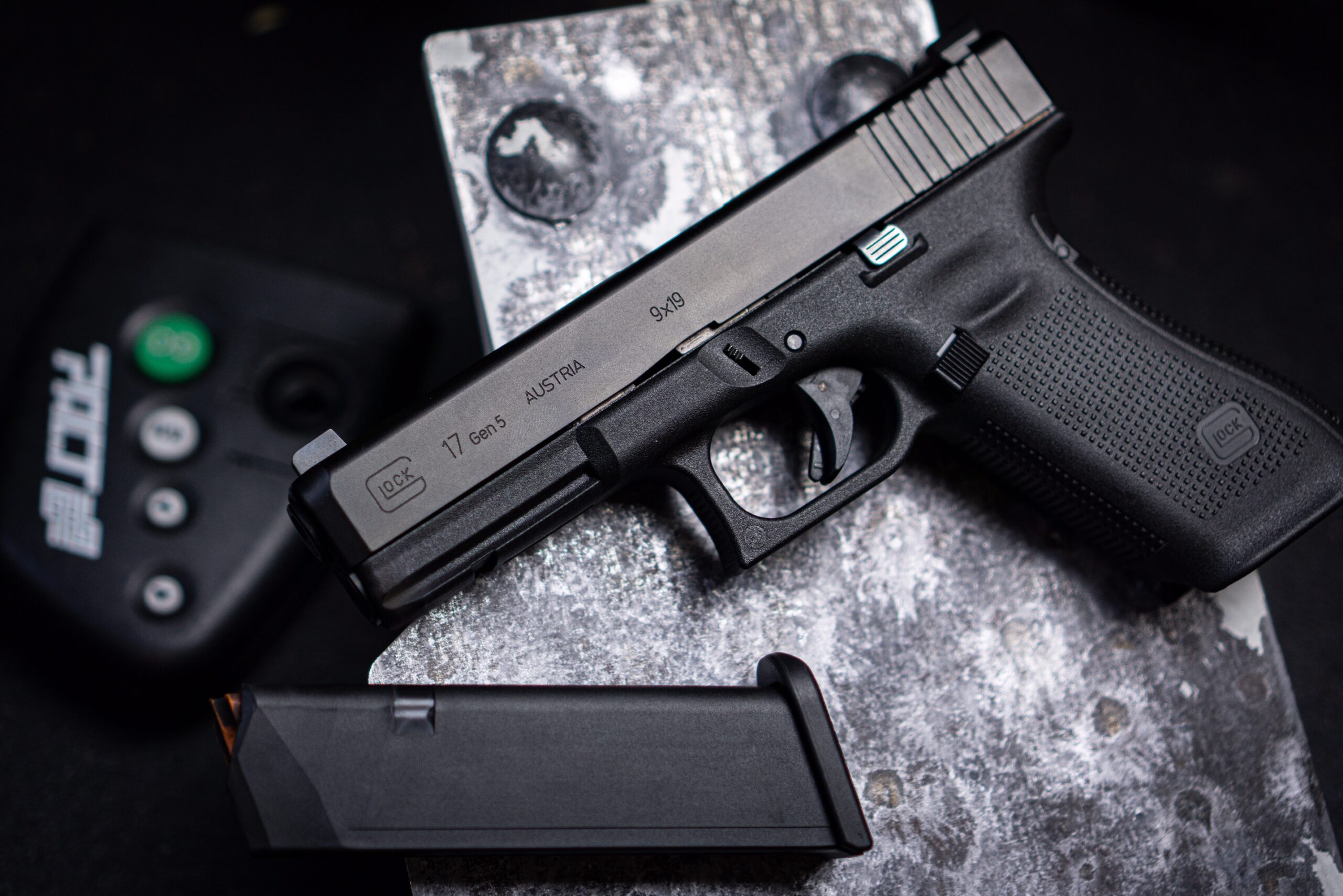 The GLOCK G17 Gen5 is a versatile 9mm pistol that improves on the classic design of GLOCK's original handguns. This 9mm is built with a GLOCK Marksman Barrel (GMB) that uses polygonal rifling to deliver consistent bullet trajectory and velocity for improved precision. Front serrations on the slide of this GLOCK 9mm provide a positive gripping surface while manipulating the slide, even if the user has wet or sweaty hands.
For smoother operation, the G17 Gen5 features a flared mag-well that makes inserting the magazine fast and easy, allowing faster reloads, as well as a reversible magazine catch to accommodate both right- and left-handed shooters. A unique Safe Action® system sequentially disengages three safeties—one in the trigger, firing pin, and drop—to provide an extra level of security and prevent accidental discharge. Coated with an nDLC finish for added durability, the GLOCK 17 Gen5 9mm Pistol offers precision performance and reliability with a sleek, solid build.
GLOCK 17 gen 5 Pistols
Glock 17 Gen 5 UA1750303AB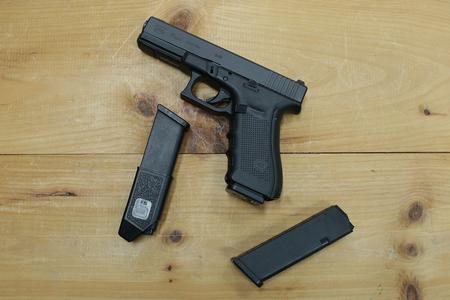 *FOR GEN4/GEN5 MODELS: Check out the Gen5 and Gen4 Technology area for medium/large backstraps.
GLOCK offers over 50 pistols in a variety of sizes, calibers and styles. Each GLOCK pistol was designed and engineered to respond to our customers' needs. No matter which GLOCK pistol you choose, it will deliver on our promise of safety, reliability, and simple operation, all at an affordable price.
GLOCK Brand
Gaston Glock founded the business in 1963 in Deutsch-Wagram, Austria where the original facility stands. LEARN MORE.
In addition to GLOCK Ges.m.b.H.Deutsch-Wagram, Austria, the other facilities include GLOCK Ges.m.b.H.Ferlach.Austria, GLOCK s.r.o Bratislava, Slovakia, and GLOCK, Inc., Smryna, Georgia U.S.A.
GLOCK, Inc. is located in Smyrna, Georgia and was founded in 1986 as the first subsidiary of GLOCK Ges.m.b.H. LEARN MORE.
Mr. and Mrs. Glock are still involved in the operation of the company.
GLOCK Pistolso  GLOCK 17 Gen 5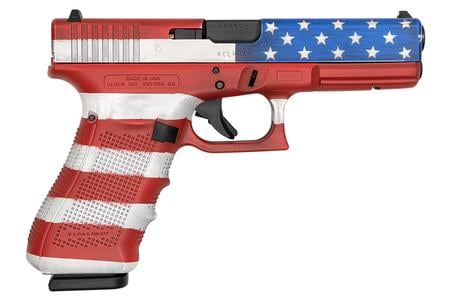 GLOCK, Inc. began full production operations in 2013. All pistols manufactured in the United States include "U.S.A." and a small outline of the state of Georgia stamped on the slide.
The GLOCK 42 is only manufactured in the United States.
A total of six colors are manufactured from the factory in addition to black: Olive Drab, Flat Dark Earth, Battle Field Green, and Grey, as well as two additional colors that are used for the manufacturing of training pistols, blue and red.
The GLOCK 42 is the first single stack pistol produced by GLOCK. LEARN ABOUT G42.
The GLOCK 17 was named after the number patent filed by Mr. Glock during the development of the pistol. LEARN ABOUT G17.
Although they are rugged and resistant, GLOCK pistols still need to be properly maintained and lubricated. LEARN MORE ABOUT MAINTENANCE.
GLOCKs actually have three independent safeties in the SAFE ACTION® System. LEARN MORE.
How it all started GLOCK 17 Gen 5
Gaston Glock, an Austrian engineer, successful businessman, and manufacturer of injection molding parts and components, founded GLOCK Ges.m.b.H in 1963.
In the 1970s, development and production start-up of the first military products began to take place with the development of a line of knives, grenade casings and machine gun belt links.
In the early 1980's, the semi-automatic GLOCK service pistol was born in response to meet the needs of the Austrian military. It's polymer frame and the developed SAFE ACTION® System revolutionized the pistol market
---
First of its kind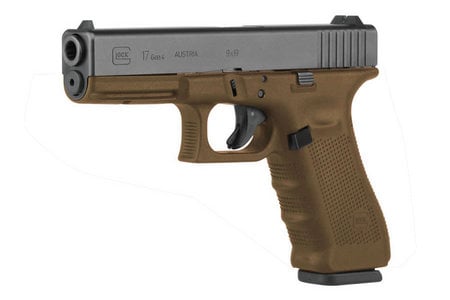 Mr. Glock was building the pistol for the Austrian military and law enforcement, which meant it had to be ready to fire at a moment's notice in life-threatening situations. To address this critical need, Mr. Glock designed his pistol with three internal safeties – the trigger, firing pin and drop safeties – to ensure that the pistol would perform consistently while providing the best protection against accidental discharge.
Mr. Glock met additional requirements of the Austrian government by including a high-capacity magazine, lightweight materials, consistent trigger pull, and a hammer-forged barrel. Mr. Glock understood that reliability resides in simplicity, and therefore, he designed his pistol with as few parts as possible, minimizing its complexity. Today, the GLOCK pistol is made from an average of only 35 parts, which is significantly fewer than any other pistol on the market and makes it more durable, reliable, and easier to maintain.
---
Tested and trusted by the best
Mr. Glock's innovative design successfully passed a series of stringent tests against domestic and international competitors. In 1983, the GLOCK pistol was accepted by the Austrian Army as their new service pistol.
Shortly after in 1984, the GLOCK 17 soundly passed the NATO durability test. As a result, the pistol was selected by the Norwegian Army as their standard sidearm, putting GLOCK on the road to becoming the preferred international law enforcement sidearm.
In November 1986, the company opened its U.S. headquarters, GLOCK, Inc., in Smyrna, Georgia.
The GLOCK pistol would soon be available in multiple sizes and accept different caliber ammunition. This combination, partnered with the simplicity and reliability of Mr. Glock's design, revolutionized the pistol market.
Over 65% of federal, state and local agencies in the United States have been issued GLOCK pistols.
1980-1982
BIRTH OF THE GLOCK PISTOL
In the early 80ies the semi-automatic GLOCK service pistol was born. It's polymer frame and the developed Safe Action® System revolutionized the pistol market.
2020
THE GEN5 FAMILY GROWS
By applying the Gen5 technology to the caliber 40 S&W GLOCK expands its pistol range with five pistol models available in standard and MOS configuration.
Caring for Your GLOCK
To make sure your GLOCK pistol keeps working reliably, you should clean and lubricate it on a regular schedule. Refer to your owner's manual for the proper lubrication points, as well as the proper amounts of lubrication required.
Your GLOCK pistol should be cleaned and lubricated:
When it's brand new, before it's fired for the first time
After each time it's fired
At least once a month, if it hasn't been used in that time
If it's been exposed to rain, snow, perspiration, salt water, dirt, dust, etc.
If you are using your GLOCK pistol very heavily, we recommend that you have it inspected periodically. A GLOCK certified armorer can do this, or you can send it to GLOCK, Inc. to be inspected. You can use our DEALER LOCATOR to find a GLOCK certified armorer in your area.
If your GLOCK needs another part replaced, that should be done by a certified GLOCK armore
Cleaning Your GLOCK
Proper cleaning and lubrication prevents corrosion and removes accumulated dirt and debris that can affect your pistol's operation. Check the owner's manual for your GLOCK model for where to apply lubricant and how much to apply.
NOTE: Applying the correct amount of lubrication is key. Too much lubrication can affect the pistol's performance.
Each time you clean your GLOCK pistol, it should be field-stripped (disassembled into its major components).
Handing Down Your GLOCK
If you properly maintain your GLOCK throughout your ownership, it will be in perfect condition to hand down for generations. Many firearms are handed down from generation to generation, but it's important to be aware what the laws are in your state when it comes to passing these items on.