The P320 is a modular, polymer-framed service pistol designed from the ground up with the input of law enforcement officers. Featuring a serialized, stainless steel frame with a polymer grip module and a removable fire control assembly pioneered by Sig Sauer, the P320 is customizable to any hand size or duty requirement using interchangeable components (sold separately).
The P320 has no external safety or decocking lever to snag or hang up on the draw. It has an ambidextrous slide catch lever and a reversible magazine release for full ambidextrous operation. This model is chambered in 9mm with a 17+1 capacity. It has a black finish. Some gun lovers say the  best sig sauer p320 is the M17

SIG P320 For Sale
The SIG P320. For the most versatile pistol, available in an extensive variety of models and features, the Sig Sauer P320 for sale right here is one that can't be beaten. The SIG 320 is available in several sizes to cover the needs of the operator such as compact, full-size, and sub-compact, as well as models that are specific to the needs of law enforcement or military personnel.
Without compromise, the P320 features a robust safety system including both a striker, disconnect, and innovative 3-point takedown safety. Those attributes combined with a smooth, crisp trigger, interchangeable grip modules, and the signature SIGLITE Night Sights, create a weapon that is undeniably the best in its class.
Sig Sauer P320 features
FAMILY: P320 Series
MODEL: P320 Full
TYPE: Semi-Auto Pistol
ACTION: Double Action Striker
FINISH: Nitron
STOCK/FRAME: Polymer Frame
STOCK/GRIPS: Polymer
CALIBER/GAUGE: 9mm
CAPACITY: 17+1
# OF MAGS: 2
BARREL: 4.7″
OVERALL LENGTH: 8″
Now available in civilian versions, the sig Sauer p320 xcompact elevates the standard for a striker-fired pistol with an exceptional trigger and a modular design as dependable as it is unique.  The same innovation and versatility as the U.S. Army's new M17 in a civilian version.  Find out why the Sig P320 was awarded the 2016 American Rifleman Golden Bullseye "Handgun of the Year award.  You can find the Sig Sauer P320 and P320-M17 for sale here, along with Sig P320 magazines, holsters, optics, lasers, and accessories. Also, note that sig Sauer p320 caliber is better than most 9mm pistols.
Sig P320
TESTED AND ABUSED
With its unmatched modularity, unprecedented accuracy, and uncompromising reliability, the state-of-the-art SIG SAUER P320 has quickly become one of the most sought-after firearms on the market today. Chosen by all branches of the U.S. military, as well as law enforcement agencies across the country and around the world, the P320 redefines the modern handgun. Also, you can compare the sig Sauer p320 vs glock 19 from our website.
SAFETY WITHOUT COMPROMISE
Safety isn't negotiable. The P320 maximizes peace of mind with a robust safety system including both striker safety and a disconnect safety, and because of its innovative 3-point takedown safety, never again will you need to pull the trigger to disassemble your pistol. This has been a top priority on sig sauer p320 review
First Look at the civilian versions: SIG Sauer P320-M17 including availability and prices for the US and Europe
Shop for Sig Sauer P320 online
Find Sig Sauer P320 for sale online the world's largest gun auction site. You can
buy Sig Sauer P320 online
with confidence from thousands of sellers who list every day.  you can buy Sig Sauer P320 from a trusted online source. Want to sell Sig Sauer P320?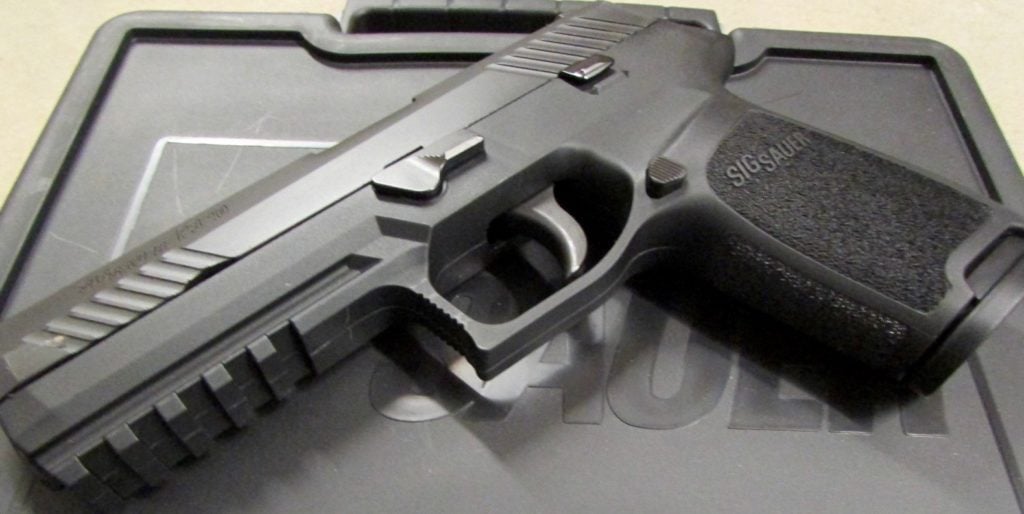 The Sig Sauer® P320 Compact Semi-Auto Pistol is a lightweight polymer-frame, striker-fired pistol that's small enough to conceal and big enough to deliver major firepower. A smooth, consistent trigger pull permits precision shot placement as well as rapid, controlled fire. Sig semi-automatic pistols have several built-in safety features that make them suitable for safe carry.
Sig Sauer P320 Compact Semi-Auto Pistol
An ergonomic textured grip provides instinctive pointability and a non-slip hold, even with sweaty hands. The frame features an integral 3-lug Picatinny rail for attaching aftermarket sights and lights. A serialized, stainless steel inner frame assembly allows interchangeability with aftermarket grip modules according to one's hand size. The corrosion-resistant, Nitron™ coated stainless steel slide features front and rear serrations to enhance the shooter's ability to pull the slide back for loading and clearing the action. The slide is nicely chamfered and de-horned for enhanced concealment. Fully adjustable sights provide rapid sight acquisition. The Sig Sauer P320 Compact Semi-Auto Pistol safely fieldstrips in seconds, without the use of tools for cleaning and maintenance.
Some characteristics of  Sig P320
Polymer-frame, striker-fired
Smooth, consistent trigger pull
Serialized, steel inner frame assembly
Nitron coated stainless steel slide
Front and rear slide serrations
Ergonomic textured grip
Built-in safety features
Fully adjustable sights
Integral 3-lug Picatinny rail
Easily fieldstrips without tools
Sig Model P320 Compact Semi-Auto Pistol serial #58C453735, 9mm, 3 7/8" barrel with an excellent bore. This lovely pistol has seen very little use, the metal surfaces retaining about 99% original black finish, and the polymer frame rates excellent showing a few handling marks.
what you get from the package
The pistol features Sig three-dot Siglite night sights, ambidextrous frame-mounted thumb safety, reversible magazine catch, equipment rail, medium-sized frame, and ambidextrous slide stops. It includes the original factory box that is correctly end labeled, numbered to the gun, and dated October 6, 2018; a pair of fifteen-round magazines, a cable lock with a pair of keys, a manual, and paperwork.
According to the Sig website this gun has had or does not need the trigger recall. It will make an excellent home defense, concealed carry, or range gun.
Prices and availability of the new SIG Sauer P320 M17 for the US and Europe
Additionally, the M17 represents over 2 million rounds of testing! It´s winning everywhere: Denmark and Norway just chose it after 10.000 or 20.000 rounds of torture tests with submitted guns.
The P320-M17 currently costs in the USA 768 USD and the retail price for the M17-Commemorative is 1.122 USD.
As far as we know at the moment the P320-M17 will be released in Europe in early 2019. The retail price will be 1.089.- € and may vary according to the VAT of your country. The Commemorative Edition will not be available in Europa.