Buy Glock 26 Gen 3
GLOCK G 26 Semi-Auto Pistol
The Gen 3 Glock 26 added the now infamous finger grooves to their pistols for added grip and control during the operation of the gun. The Gen 3 also added the Universal Glock Rail to the dust cover of the pistol frame to add attachments, such as after-market sights, lasers, and lights.
Gen 3 was the first model to add thumb rests on each side of the pistol grip to give us lefties some added comfort (I didn't like it at all). One of the best features of the Gen 3 was the extractor being raised up from the frame when the gun is loaded. This gives the Gen models an added safety feature because it acts as a loaded chamber indicator that is easy to see. Finally, a cross pin was added to the trigger guard pin to help reduce felt recoil in the barrel.
Specs
| | |
| --- | --- |
| Length (Overall)** | 165 mm | 6.50 inch |
| Slide Length | 159 mm | 6.26 inch |
| Width (Overall) | 32 mm | 1.26 inch |
| Slide Width | 25,5 mm | 1.0 inch |
| Height incl.Mag. | 106 mm | 4.17 inch |
| Line of Sight (Polymer) | 137 mm | 5.39 inch |
| Line of Sight (Steel) | 136 mm | 5.35 inch |
| Line of Sight (GNS) | 135 mm | 5.31 inch |
| Weight | 730 g | 25.75 oz|1.6 lbs |
| MSRP | |
| Magazine Capacity | 10/12 / 17 / 19 / 15 / 24 / 31 / 33 |
| Caliber | 9x19mm Luger |
| Barrel Length | 3.43″ |
| Trigger Pull Weight | 28 N/ 6.295 Lbs |
| | |
Pros
Great Price for used models
Perfect for a concealed carry pistol
Great gun to learn on for smaller men, women, and children
This gun weighs 1.6 lbs fully loaded, making it incredibly comfortable to carry
Fits perfect as an ankle holster
Great backup pistol for law enforcement
Cons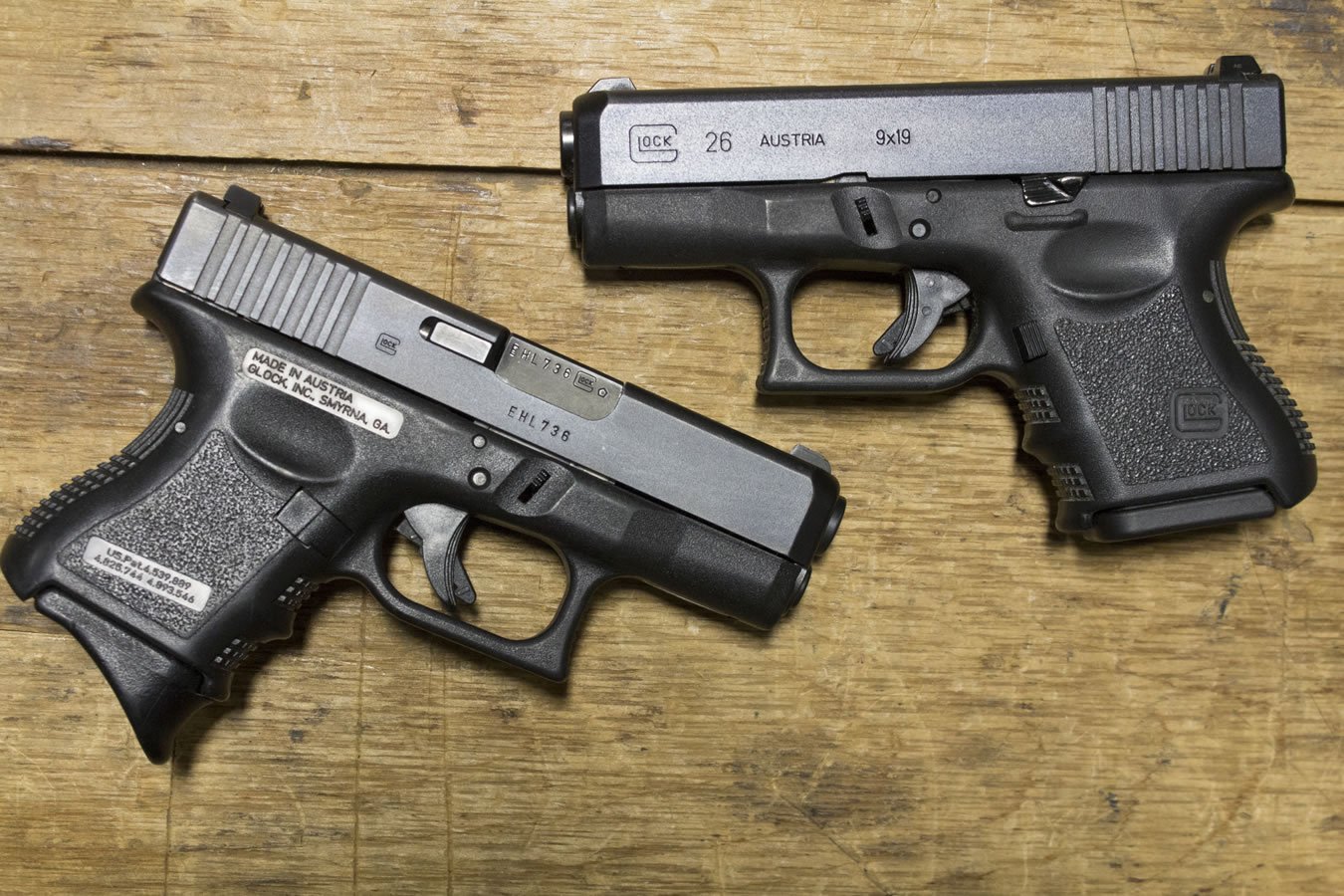 The finger grooves are very uncomfortable and cause you to grip the pistol in a standard position
Gen 4 and 5 are much better pistols and will give you a much better feel
Buying new for a Gen 3 is like buying the original Playstation, it might work just fine, but it's not going to feel or look as good as the Playstation 4 (I can't wait for the 5!)
The trigger pull weight is very heavy for such a compact pistol
Features
Safe Action safety feature (no manual safety)
Loaded chamber indicator added to all Gen 3 pistols
Thumb rests for ambidextrous characteristics
Added finger grooves
Added Universal Glock Rail
Why Should I Buy The Glock 26 Gen 3?
The Glock 26 Gen 3 is a great gun to own because you can get this gun used and fairly cheap at gun shows, pawnshops, or online retailers. There are deficiencies in Gen 3, but this could be a great starter gun for concealed carry purposes and to learn how to shoot a pistol. For example, the 1st Glock I ever shot was the 26 (Gen 3), and it's small enough to take away the intimidation of holding a gun and easier to control for shooters with smaller hands. I haven't met anybody that likes the finger grooves in the early Glocks, but like the saying goes "to each his/her own."
Where Can I Buy a Glock 26 Gen 3?
As with any Glock, you could start with buying directly from their website, but if you want the best deal on a Gen 3, I'd go with Glock Center Personally,
Glock 26 Gen 3  in black. We DO have extremely limited stock so please put in a mail or a call to double-check before you order. The Austrians have successfully engineered the Glock  26 Gen3 to overcome the common design constraints when dealing with a small concealable pistol.
 Handguns specifically designed for concealed carry are always a series of tradeoffs. Magazine capacity and caliber are the first issues followed by recoil as the firearms tend to be small and light.
Perfect Trigger Placement
Trigger pull is also often an issue.
 The Glock G26 Gen3 is similar in size and weight to the small-frame snub-nose revolvers it has replaced.  It fires a  9 x 19mm cartridge with surprisingly minimal recoil.  This is due to the Glock 26 Gen 3 progressive rate recoil spring. Trigger pull is identical to that of the full-frame models and it is small enough to slip into a pocket or a purse.
Ideal as a backup for those who use the Glock 17 or 19 as carrying guns as the larger 9mm magazines fit the G26.
 In fact, raise some eyebrows next time you are on the range and use a 33 round "Happy Stick" in your G 26 Gen 3.
Glock 26 Gen 3
In summary, the Glock 26 Gen3 is a perfect high-capacity concealed carry gun, chambered in a man-stopping caliber. Furthermore, it weighs only a few ounces, is small enough to conceal easily, but still has a large enough grip to enable a firm hold. The G26 meets this requirement admirably. PLEASE NOTE Gen3 G26 ships with 2 of 10 round mags.
Glock 26 Gen 3  Recoil Spring
The Glock G26 Gen 3  has a dual recoil spring system that features a progressive spring rate reducing recoil. The G26 recoil spring is identical to the Gen4. All other Gen 3 Glock have the single recoil spring except for G26. The Gen3 Glock 26 shoots very almost identically in either Gen3 Gen 4 or Gen5 variations. Therefore the Gen3 model which is way cheaper is probably the best value for money of any Glock you can buy.
If you scroll to the bottom of the page, you'll find a list of reviews from real owners of the Glock 26 to help you determine if it's right for you!
Is the Glock 26 a good gun?
The Glock 26 is a great firearm for self-defense.
This polymer, subcompact, semi-automatic handgun is also extremely popular with gun owners because it offers a better magazine capacity in 9x19mm than many other small firearms like a snub nose revolver.
The GLOCK® G26 is a subcompact semi-auto pistol designed specifically for concealed carry use. Made with the same materials and quality control as all GLOCK semi-automatic pistols, the G26 is a carry gun you can count on at the moment of truth.
Internally, the GLOCK 26 employs the same striker, short-recoil operated, and locked-breech barrel as the larger framed GLOCK pistols; though it uses a dual recoil spring assembly similar to the Gen4 pistols. The Safe-Action trigger system makes shooting in high-stressed situations infallible.
The mainframe of the GLOCK pistol is constructed of high-strength polymer that is resistant to shock, caustic liquids, and temperature extremes. The milled steel slide and the barrel are treated with a matte black Tenifer finish for extreme resistance to wear and corrosion. The Tenifer treated steel and polymer frame make the pistol impervious to corrosion caused by perspiration and humidity when carried close to the body or kept in a holster for extended periods of time.
The frame has checkering on the front and back straps, providing a non-slip surface; finger grooves on the front strap, and a finger rest on the front of the trigger guard aid in fire control. The slide cycles on 4 hardened steel guide rails within the frame. A white-dot front sight and a white-bracket rear sight provide rapid acquisition in dim lighting situations.
All GLOCK pistols fieldstrip easily without the use of tools. The GLOCK G26 Semi-Auto Pistol is a reliable, easy-to-maintain firearm that's perfect for everyday carry, or a backup for security personnel. The G26 comes with 2 double-stack 10-round magazines, and also functions with G17 and G19 mags.
Subcompact for concealed carry
The same internal mechanism as larger Glocks
A dual recoil spring assembly
Safe-Action trigger system
Finger grooved non-slip grip
Impervious to corrosion
White-dot front sight
White-bracket rear sight
Fieldstrips without tools
Comes with 2 magazines
Yes, you can purchase a Glock handgun on this website and have it shipped to a local FFL dealer in your area. Then,
The Mini Glock or Sub Compact G26 is the triumphant advance of the smallest GLOCK pistol, specially developed for concealed carry and previously a domain of 5-round snub nose revolvers. It started with the presentation of the GLOCK 26 in August 1994. The GLOCK 26 offers more than an alternative in this field. The magazine capacity of 10 rounds as standard and the highly accurate firing characteristics explain the worldwide distribution among security personnel and secret services.
Length: 6.29 inches
Height: 4.17 inches
Width : 1.18 inches
Barrel Length: 3.46 inches
Weight: 19.75 oz. unloaded
The standard model comes with two 10-round magazines
California model comes with two 10-round magazines
Gen 4 models come with three 10-round magazines.
Gen 4 models cannot be sold into California except to qualified Law Enforcement personnel.
We can and will customize and install parts for you at no charge and ship the gun fully assembled and ready to shoot. Just add the parts to your shopping cart and please make a note in the comments section providing us with any details or special requests. jungle boys seeds
Please note: No discounts are available on the purchase of Glock factory handguns. Discounts will only apply to accessories and parts.
NOTE: FFL required for shipment. If you do not have a dealer in mind we can help you find one in your area. If you do have a dealer selected, you must note which FFL will be receiving this item